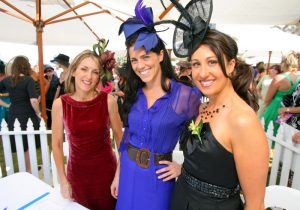 CONTACT: Sarah Crothers 0407 514342
2018 Information:
There are three (3) Categories in MYER  CENTREPOINT fashions on the field:
  Millinery Award
  Man of the Day
  Lady of the Day
  Secret Crowd Choice Skins Logics
Prizes will be awarded to the winner and runner up in each category and judging will take place in the above order.
---
The Competition
Registration:
Registration is Compulsory. Contestants can register from 10.30am until 1.20pm at the Myer Centrepoint Fashions on the field judging area. Entry is open to all persons 18 years and over.